Face it, Divers have LOTS of stuff. Between their dive gear and personal items there is much to keep track of and misplacing or losing some of these items happens to everyone. It is a problem that will never stop! If you lost or misplaced your dive gear would you like it back? Who doesn't want their gear back when they lose or misplace it? I know I would and I am sure everyone would want the same but still, the problem persists. Because of it, this blog will cover ways to mark and identify your equipment and personal items in hopes it will be easier to get back when the inevitable happens.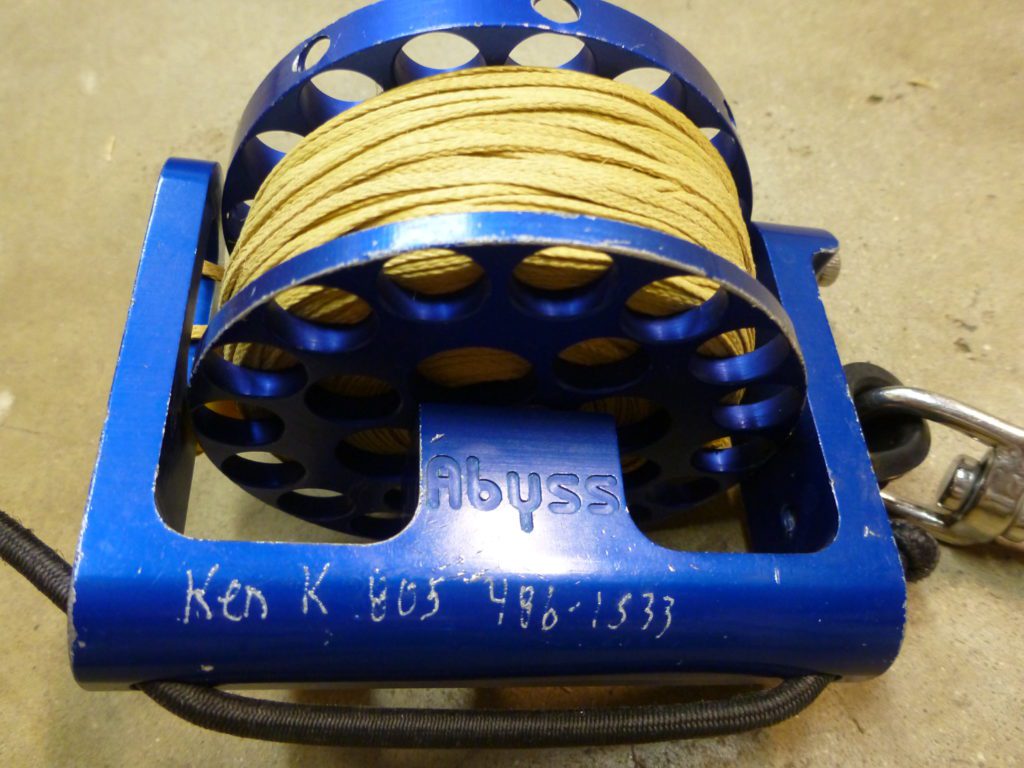 To bring home the point, I'll tell you a few quick stories and the last one will really kick you in the butt with the reason why things need to be marked.
Story 1
To make a long story short I had a Desert Star dive tracker that my dive buddy ended up with and it dropped overboard. At the time he was not able to retrieve it. I was also not aware of any of this. Then one day, I received a call from a commercial diver who was working off Anacapa Island. He started by letting me know he found something while working and proceeded to describe it. I had no idea what he was talking about because I hadn't lost anything and then a light bulb went off inside my head. How did the commercial diver know who to contact? Easy, because I had my name and telephone number engraved on the dive tracker. After talking to my buddy who lost it turns out it had been in the ocean for about 12 months and it still worked.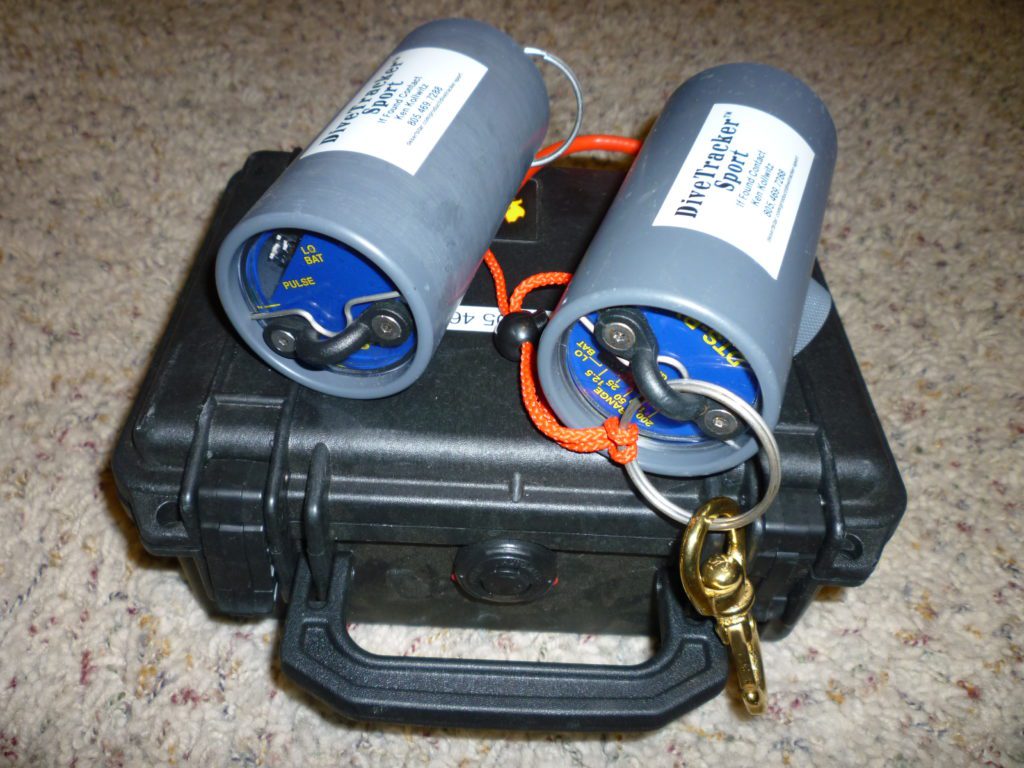 Story 2
My buddy and I were on a 2-day dive trip on the Peace anchored for the night in Johnsons Lee, Santa Rosa Island. We did a late afternoon dive and my buddy found a very nice Scubapro speargun. Upon checking, it was not from anyone on the trip we were on and there were no markings on it as to who it belonged to so now for the past 20-plus years I have had a very nice Scubapro spear gun that has been used to catch many fresh fish dinners.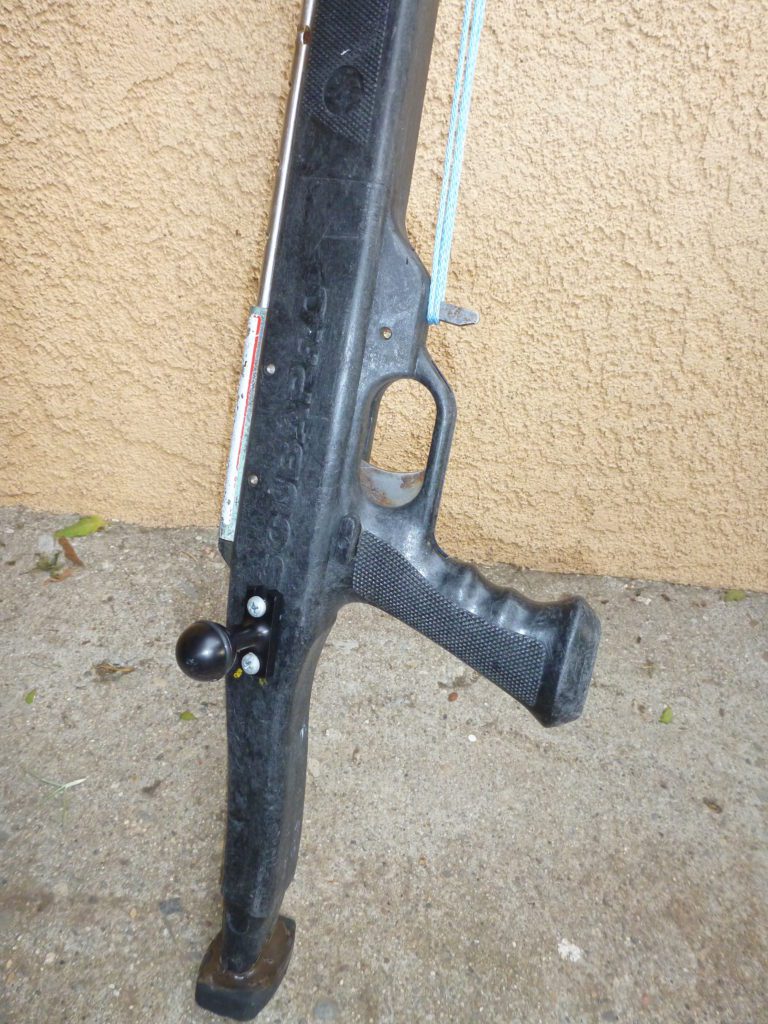 Story 3
Now that I run dive trips for my business, Channel Islands Dive Adventures I usually take home any personal items that are left on the boat. On a trip I had to West Santa Cruz there was a BC (nice one) left behind so I brought it home, rinsed it, and proceeded to look for some identifying mark or name of which I found nothing. This BC also had a small knife and wrench in one of the pockets. I emailed everyone I could think of and mentioned it to the boat owner just in case they got a call. As you can guess no one claimed it. I finally donated it to another deserving diver.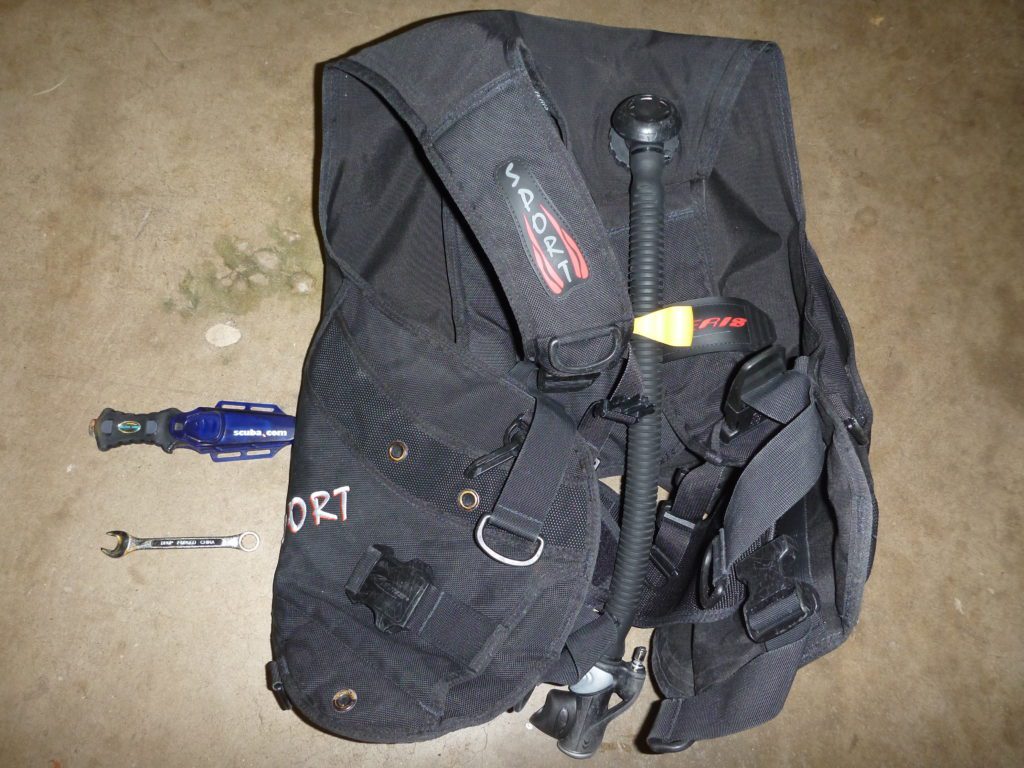 Story 4
This is the kick yourself in the butt story. I was diving one of my favorite wrecks off the coast of California, The Gosford. Somehow during the dive, my titanium dive knife fell out of the sheath. I had my camera with me so I was probably too focused to notice till I got back to the boat. The following year I was back diving the wreck without my camera and I found a knife up towards the bow in a section with chunks of coal. The knife was incrusted with stuff but I am always picking up things for good yard art. After getting back to the boat a crew member was looking at the knife and realized it had my name on it. Turns out I found my own knife! Because it was made out of titanium it cleaned up looking like new and I still use it today.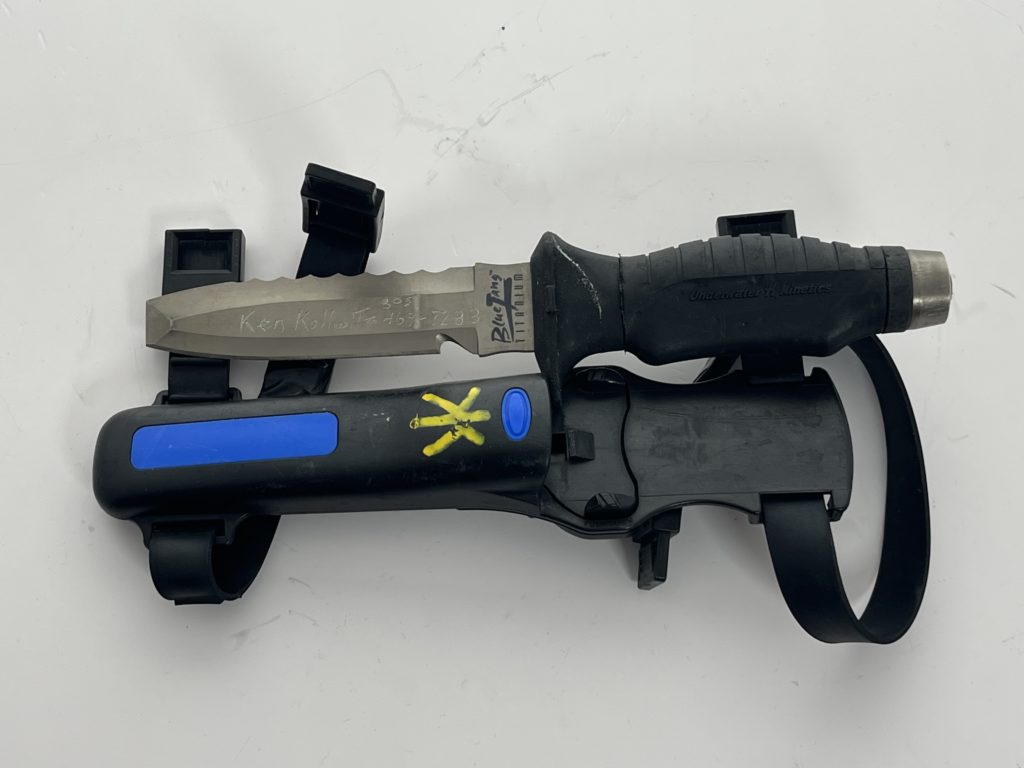 So now I ask the original question, when you lose or misplace your dive gear-do you want it back? If you do then what do the 4 stories have in common which is not really all that common? They are marked with a name, telephone number, and /or special marking like a branding image. The commercial diver told me he finds stuff all the time but how is he going to find the owner when there is just a name (usually only the first name or initials) on it? So now you know the secret.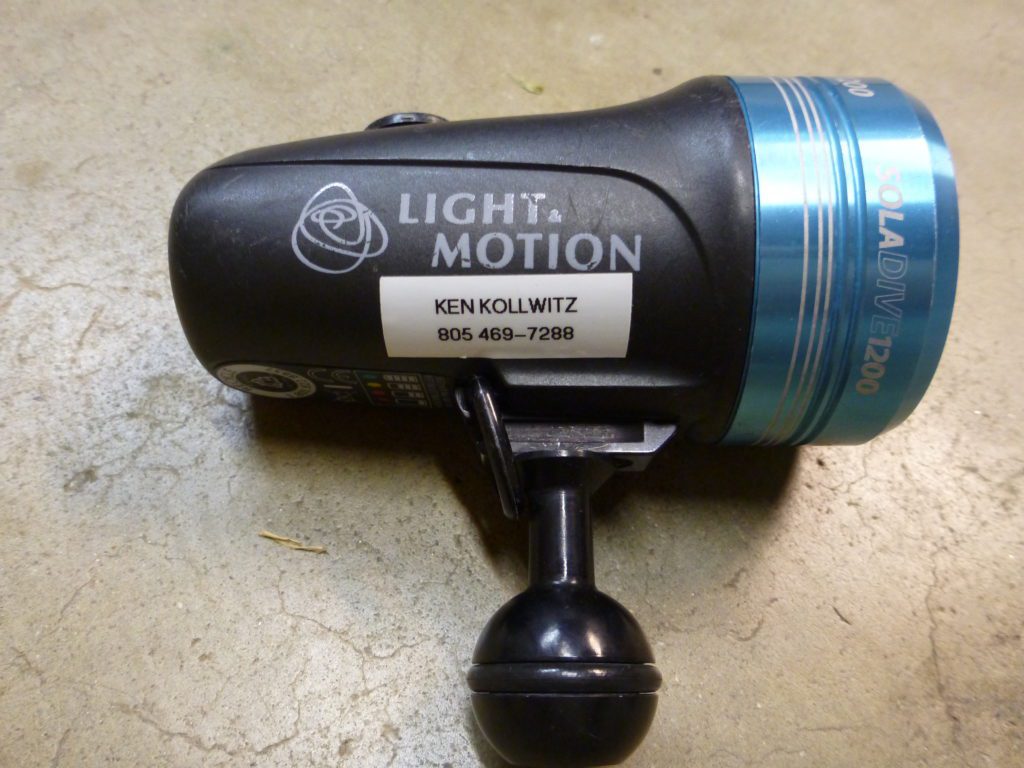 You more than likely heard already that you will lose dive gear and if you haven't yet your turn is coming and I can tell you from experience that it will happen. On a 2-day trip, there were 2 wetsuits that had been left behind. Had they had a name and number marked inside I would have called the owners immediately helping them to avoid a trip back to the boat or some extra shipping charges.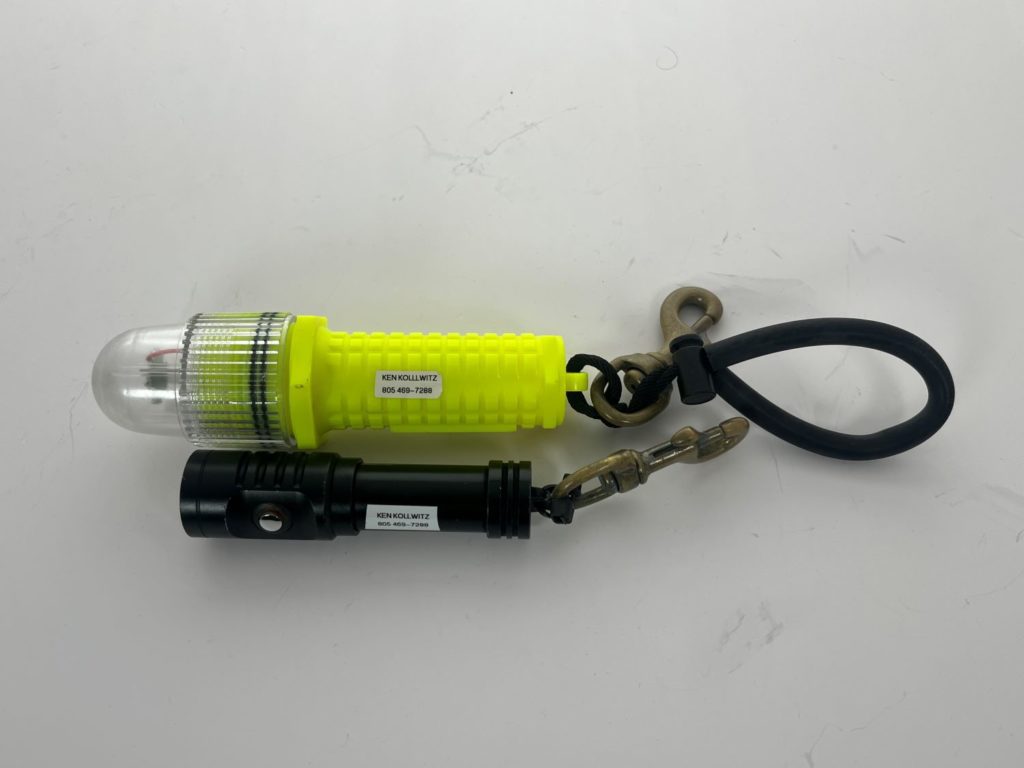 What items should be labeled?
You don't need to mark every single item and this is where a little thought is best. Think about what items you could lose while diving especially if doing beach dives. It's easy to lose masks, fins, snorkels, or anything that is not attached to you. Maybe after the dive, think about things you could leave behind like towels, chairs, coolers, dive computers, tanks, regulator setups, and so on. On boat trips and vacations, it's very easy to leave things behind or get your items mixed up with others because things get scattered all over. Items to think about would be jackets, clothing, phones, charging cables, laptops, batteries, chargers, GoPro's, cameras, and so on. Basically, mark anything that is important to you. Just remember that marking things doesn't always mean you will get them back but the chances are much higher that you will.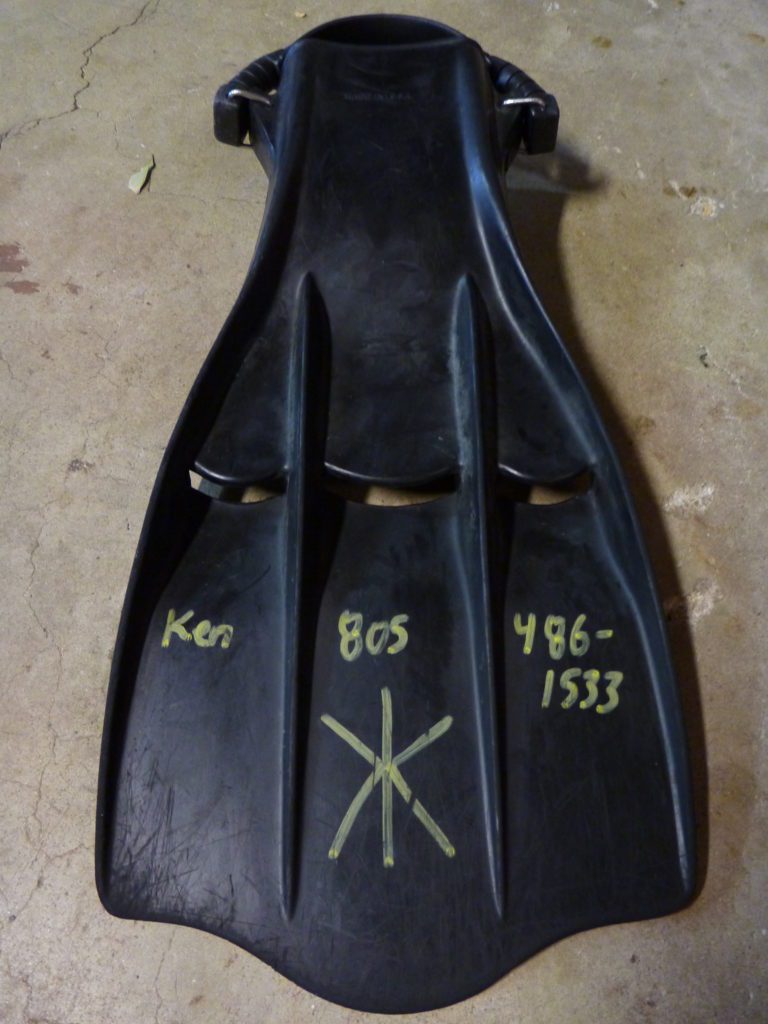 What is the best way to label or mark something?
What is the best way to mark stuff permanently? For me, my first choice is to make a small sticker using my Brother P-Touch label maker. Because you can use the label maker for so many things and the stickers will attach and stay on a smooth solid surface for years this is the best choice. These labels are excellent for camera gear, strobes, GoPro's, lights, dive computers, and more.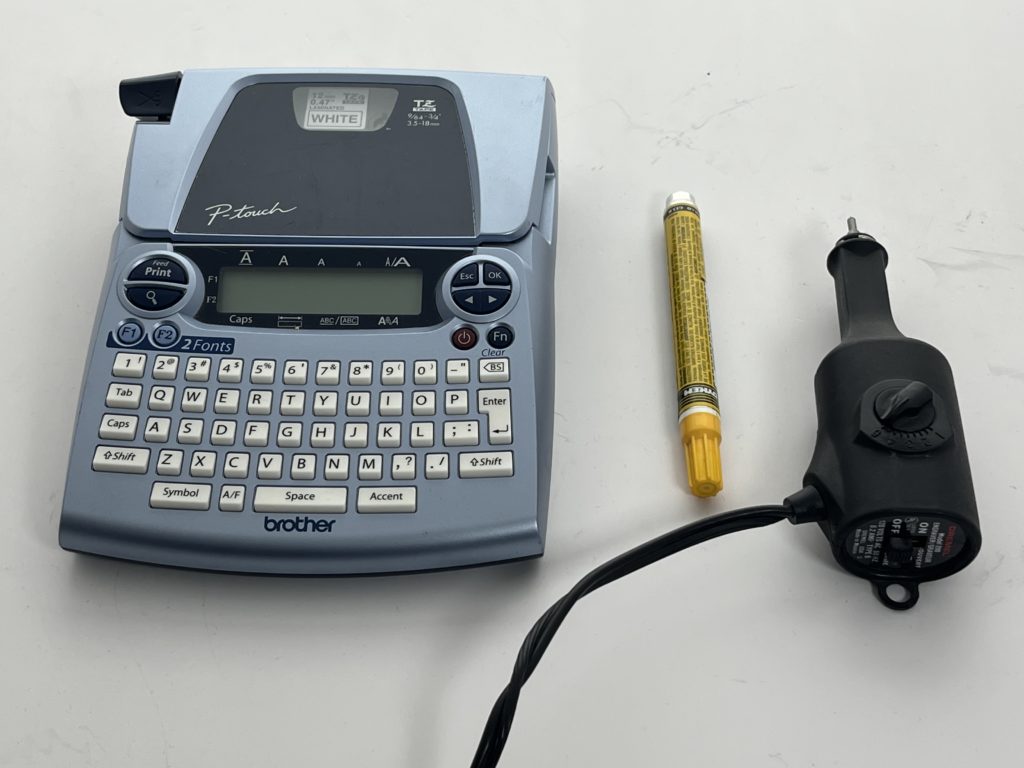 My second choice is to use a yellow or black paint marker which you can buy at any hardware store. The paint markers are usually best for larger lettering and numbering. It is very hard to write small details with one. A paint marker works great on fins, snorkels, wetsuits and accessories, buoyancy compensators, etc. My third choice is to use an engraver. This is best for hard plastic, metal, and surfaces where a sticker will not stick. After engraving, I usually mark over the area with the paint marker and wipe off the top so the paint is in the engraved area. I use this method for my regulators, knives, BC plates, mask skirt, and more. I even have engraved the hard plastic skirt around my mask, knife holders, regulators, and BC back plate.
The main idea is it doesn't have to be visibly large, just noticeable enough for someone looking for the owner and wanting to do the right thing!