Welcome to Ultralight Camera Solutions, where we proudly offer a diverse selection of kits specifically designed for Underwater and Cinema photography. Our kits encompass six categories tailored to underwater equipment and three categories dedicated to cinema gear. In this blog post, we will be highlighting the fourth underwater category: Underwater GoPro and video kits.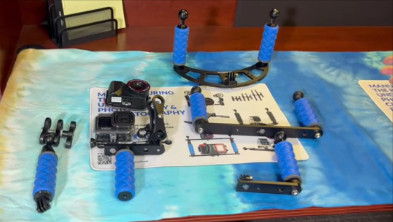 Previously, we only offered one pistol grip mount for GoPros which is now the GPK-PTGSC (not shown). We now have expanded on that with an upgraded and more versatile solution. Our new GoPro handheld design, the GPK-PTGLC, shown below features a small tray and clamp, allowing everything to be above your hand for better stability and ease of use. With a compatible camera pole mount, you can mount the handheld setup to an extendable painter-type pole to extend the tray and position your GoPro for underwater use, perfect for boat inspections or capturing footage without getting yourself wet. Moreover, the GoPro's flip-screen function works well for this allowing a clear view of your surroundings while the GoPro is underwater and you are on the dock with your GoPro underwater mount & GoPro handle.
We also offer our GPK-ST single-handle and GPK-LT double-handle kits that utilize the TR-GP and TR-GPDXL trays and TR-DHB handles making them excellent single or double-handle tray kits. However, for those looking to expand their possibilities, we recommend our Wing Tray System, the GPK-LWT which comes with our TR-DHB handles and not the AC-H handles as shown below. This setup uses the TR-GPDW tray and pushes the camera forward, providing easy access to flip filters without any obstructions for your GoPro water mount & GoPro handle.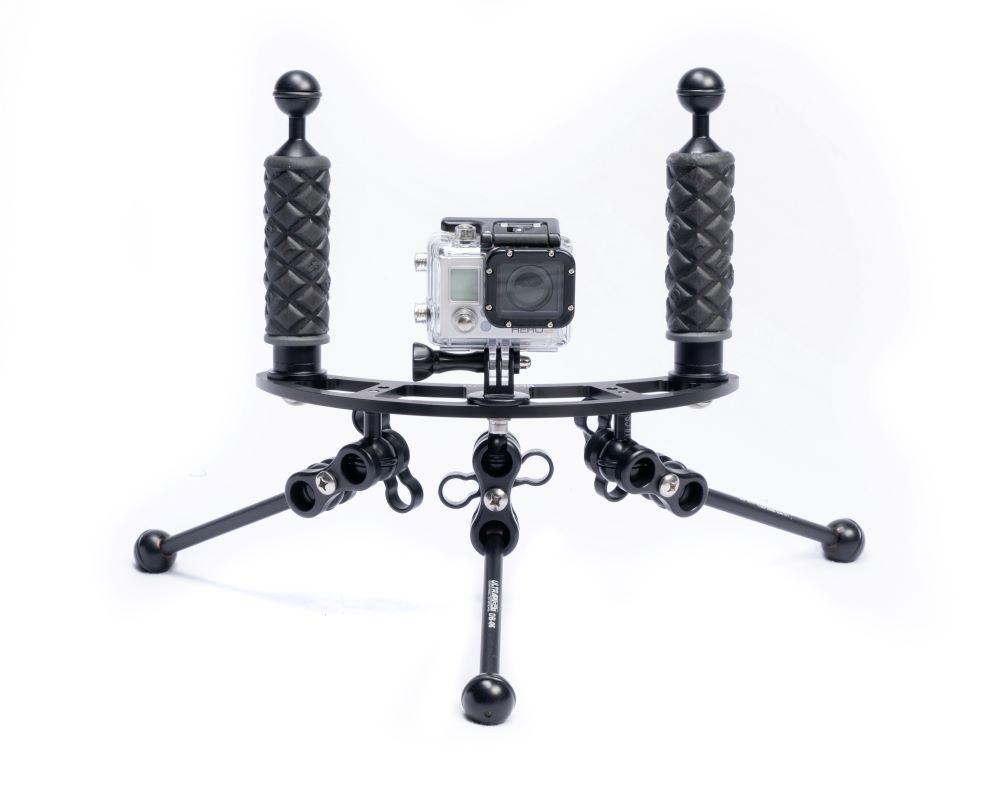 The Wing Tray System accommodates various cameras, including those with 1/4"-20 threaded holes, such as the small SeaLife video camera. This gives you flexibility and opens up endless shooting opportunities. Whether you have a GoPro or a different video camera, the Wing Tray System will prove to be an excellent addition to your kit. It is also possible to make the wing tray kit into a tripod setup if needed as shown above as a GoPro water mount.
Last but not least our new special kit using a Cardellini clamp is the CCK-SMCGO. Cardellini clamps have been used for a long time in the Cinema industry and are very rarely seen, if at all in underwater photography applications. What makes the Cardellini clamp so special is the ease of use it has and it is easy to mount to any material 1 1/2" thick or less. Made out of stainless and cast aluminum it holds up to the environment and could easily be used instead of having someone hold a light in place for a specialized photoshoot. We are sure our new kit using this clamp will be a game changer once they catch on to the diving public.
In conclusion, our underwater GoPro photography & Video kits are not only perfect for underwater adventures but can also be a versatile tool in a work environment. So, whether you are capturing incredible marine footage or conducting inspections, our camera solutions have got you covered. Happy videoing, and have a fantastic day!
---
---
Underwater GoPro Tray Links: