Welcome to Ultralight Camera Solutions, where we proudly offer a diverse selection of kits specifically designed for Underwater and Cinema photography. Our kits encompass six categories tailored to underwater equipment and three categories dedicated to cinema gear. In this blog post, we will be highlighting the first category: Underwater Camera Arm kits.
Within this category, we have 7 different kits to suit various needs. Some kits feature standard options with different strobe mounts, while others introduce innovative solutions and approaches. To complement each category, we have also provided a video on our YouTube channel. You can find the link to the video at the end of this blog to our video on professional lighting support systems.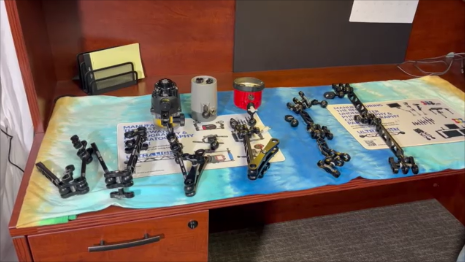 Among our offerings, we have a couple of underwater double-arm kits, The UAK-DSS-05 (not shown) and UAK-DSS-08, shown below that utilize our SBSS arms for professional lighting support systems. These arms are designed with a ball mount at one end and a YS mount (Sea & Sea style) at the other. One kit includes the SBSS-05 and DB-05 arms, while the other features the SBSS-08 and DB-08 arm.
Additionally, we have three kits that utilize a single DB-05 arm paired with an AC-CSLXL clamp. They are the UAK-SLCYS-05 (not shown), the UAK-SLCIN-05, and UAK-SLCIK-05, both shown below. This combination provides a great alternative to using two standard DB-05 arms. Each underwater camera arm kit is equipped with either the AD-SS ball mount for Sea & Sea and compatible lights, the AD-125 for Ikelite strobes, or the AD-IN made for Inon Strobes. We offer three similar kits but with a DB-08 arm instead of the DB-05 arm and they are the UAK-SLCYS-08 shown above, the UAK-SLCIN-08, and UAK-SLCIK-08, (both not shown). Ken, the owner of Ultralight, personally recommends the setup with the DB-05 arm for its versatility and ease of use. Using the extra-long clamp as an arm allows for easier adjustments by removing one clamp.
For those interested in double-arm kits, we provide three versions using two DB-05 arms and they are the UAK-DYS-05 shown below, the UAK-DIN-05, and UAK-DIK-05 (both not shown). For double arm kits utilizing DB-08 arms we have the UAK-DYS-08, UAK-DIN-08, and the UAK-DIK-08 (none shown) All these kits offer various options for mounting strobes and lights, including the AD-SS, and AD-125, or AD-IN for all of your professional lighting support systems needs.
Depending on your photography preferences, whether it's macro, wide-angle, or a combination of both, we have an arm kit suitable for you. Two shorter arms are ideal for macro photography and close-focus wide-angle shots, while two longer arms are better suited for wide-angle photography. Of course, you can also choose any combination in between to fit your specific needs. If you're shooting videos instead of still images, many of these kits will work equally well, especially if you have lights with a YS mount. Additionally, it's worth considering your travel requirements and how everything will pack. Ultimately, the best choice depends on what works best for you, and sometimes thinking outside the box can lead to great solutions.
If you don't find what you need, please Contact Us. We are always here to help!
Below are the kit part numbers and the links for each: