Welcome to Ultralight Camera Solutions, where we proudly offer a diverse selection of kits specifically designed for Underwater and Cinema photography. Our kits encompass six categories tailored to underwater equipment and three categories dedicated to cinema gear. In this blog post, we will be highlighting the fifth underwater category: Underwater Tripod kits.
In this fifth installment of our Underwater Kit series, we are thrilled to showcase our diverse array of underwater tripod kits. These kits have been meticulously designed not only for exceptional performance underwater but also to deliver outstanding results above the waterline with all types of cameras, including GoPros.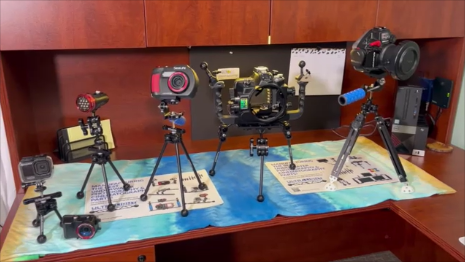 Our range spans from compact setups like the TPK-SGP-03 featuring smaller DB-03 arms and a GoPro mount, similar to the picture below but without the tray and handle. The next size up is our TPK-MGP-06 (not shown) using DB-06 arms with GoPro tripod mounted to the TPK-MBA-06 (not shown) with the DB-06 arms and an AD-1420 ball mount, perfect for securely mounting a light.
The more substantial TRI-THC pan & tilt tripod head are complemented by the DB-09 arms making up the TPK-LPT-09 shown below. This larger kit is ideal for as a GoPro tripod mount, or for handling a variety of cameras, housings, and lights.
One new impressive kit we offer, the TPK-LMU-06 uses our super versatile TRI-TRAY designed to fit almost any camera, still, or video out on the market. Along with the special BA-MT angled ball mounts, clamps, and our DB-06 arms as legs, this tripod will do it all and is a one-of-a-kind setup making it not only unique but extremely functional.
No matter your equipment preferences, our kits are built to be versatile and compatible with numerous camera setups and accessories. From professional cameras to action-packed GoPros, we have the perfect solution to suit your needs.
At Ultralight Camera Solutions, we take pride in offering a comprehensive range of kits that cater to diverse underwater and cinema shooting requirements. So whether you're capturing breathtaking underwater scenes or engaging in above-water cinematography, our kits will deliver exceptional performance and reliability. If you don't find what you need, please Contact Us. We are always here to help!
---
---
Underwater Tripod Kit Links: